With 2021 coming to an end, we have been analyzing the data from the past year to learn the big lessons that can be learned from over 700,000 website visitors and 1.4m page views.
Things such as:
What devices are people using to visit your website? (desktop, tablet, or mobile)
What is the age of your website visitors?
What is the gender of your visitors?
And what pages do they often visit?
There's been some surprises.
One, in fact, which is driving a change across our members' websites.
But if you're serious about growth in 2022, then this big-picture data should be your goldmine to learn where your weak spots are, what changes you can drive into place, and where the hidden opportunities may be.
Strap yourself in.
#1 – How Are People Visiting Your Website?
[Desktop vs. Tablet vs. Mobile]
Over the past 10 years, many industries have seen a dramatic shift in how people visit their websites.
It used to be that the large majority of all website visitors were from a desktop computer. Yet over time, more and more people have started using a cell phone as their primary way to search the internet.
However, there has always been a belief in the hearing care industry that the people that visit your website are over 65 and primarily use a desktop computer.
But is this true?
Well, let's take a look.
At the end of 2020, here's what the data looked like:
It was showing a very close spilt.
48.01% of all visitors were from mobile and 47.02% visitors were from desktop.
How did that change in 2021?
Here's what the data says:
It made a dramatic shift.
In 2021, 52.01% of all website visitors were on a cell phone and only 43.22% were on a desktop.
It means that for the first time, mobile is the primary used device for visiting your website.
Key Lesson: What your website looks like on mobile is now more important than what it looks like on desktop. If your website is not mobile-optimized, then it needs attention urgently.
#2 – How Old Are Your Website Visitors?
[Age Comparison]
Another common belief that we often bump into is that your website visitors are people in their later years, which often means that fonts need to be big and websites need to be plain/simple.
But is this true?
Are your website visitors all over the age of 65?
Well, at the end of 2020, here's what the age split of website visitors looked like: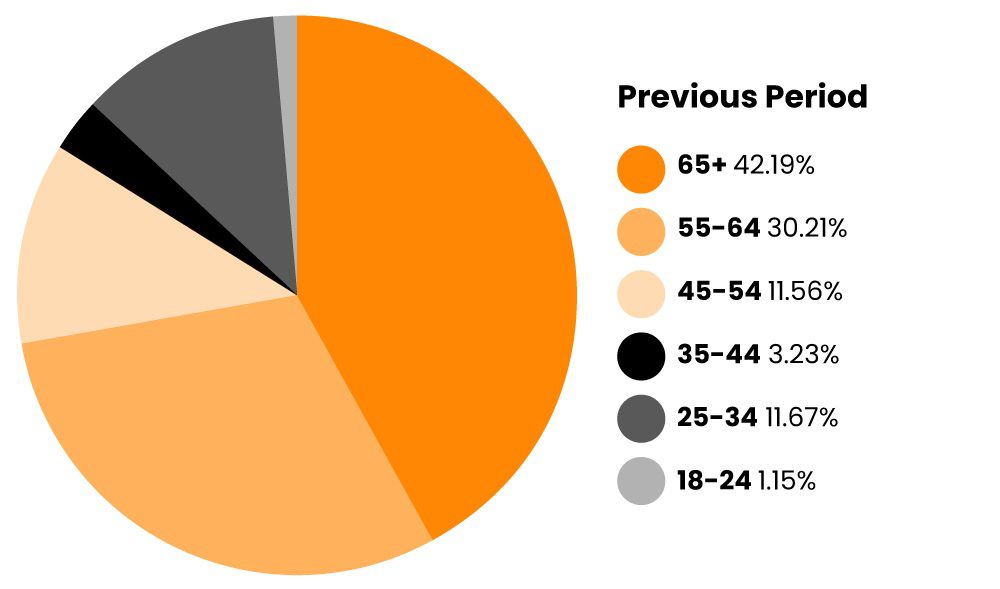 25-34 – 11.57%
35-44 – 3.23%
45-54 – 11.56%
55-64 – 30.21%
65+ – 42.19%
The data showed that 72% of all website visitors were over the age of 55.
But what about in 2021?
Did anything change?
Here's what the data says: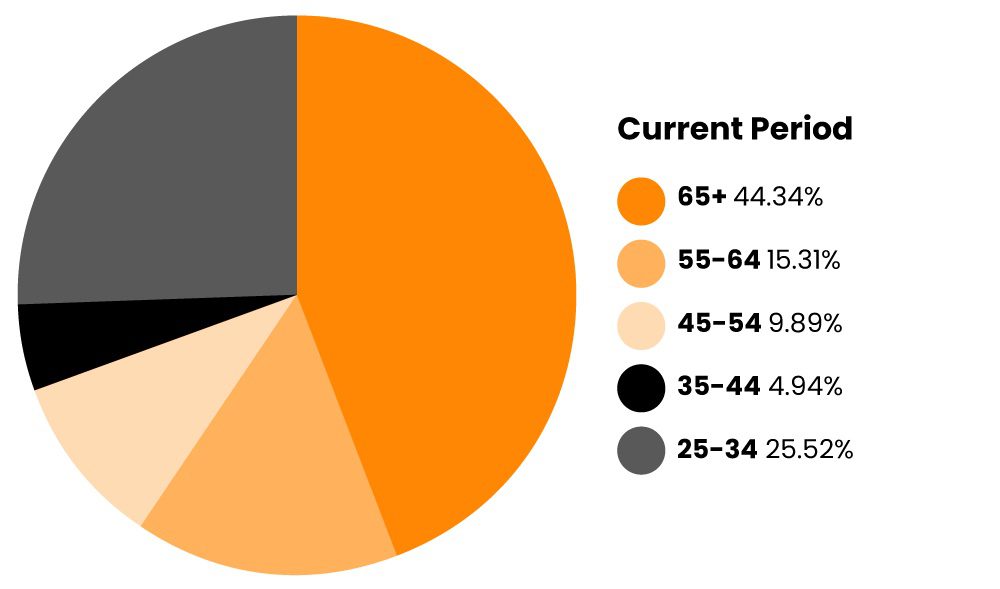 25-34 – 25.52%
35-44 – 4.94%
45-54 – 9.89%
55-64 – 15.31%
65+ – 44.34%
Wow.
Although the 65+ group stayed somewhat consistent, given a couple of percent difference – the biggest area for movement was that the 25-34 age group went from 11.57% to 25.52%.
Why did this happen?
The truth is, I'm not particularly sure.
My best guess would be that more grandchildren/children are supporting Mom and Dad in the decision-making process and potentially doing their research.
Key Lesson: 41% of all your website visitors are below the age of 55 – make sure you use language on your website that speaks toward people supporting their loved ones AND that your website isn't designed in a way that it's for "old people."
#3 – What is the Gender of Website Visitors?
Some data suggests that men are more likely to have noise-induced hearing loss.
Does that mean that more men visit your website?
It doesn't.
Here's what the male versus female split looked like during 2021.
Unsurprisingly, the data in 2021 was practically the same.
Unless you have a perfect 60/40 split of female to male patients, then this suggests that the wife/daughter of the patient is a common influencer in encouraging the husband/dad to visit you.
This is probably unsurprising, but it's nice for it to be backed up with data.
Key Lesson: Make sure the language on your website speaks toward the loved one of the person with a hearing loss! It should not be "If you have a hearing loss" – it should be "If you or a loved one has a hearing loss."
#4 – What Page on Your Website Do People Land On?
When somebody comes to your website, do they always land on your homepage first?
It's certainly the belief that many people have, but is it true?
Here's what the data says:
Out of the 700,000+ website visits during 2021, only 37% of those visits were people landing on the homepage.
Why?
Well, Google wants to ensure that the end-user receives a seamless experience where they find what they're looking for as simply as possible.
That's why they'll often point people toward internal pages and blogs on your website if they believe they're the most relevant option for the user.
It's why the depth of your website is so important.
It's no surprise that the best performing websites have hundreds of pages and hundreds of blogs of unique content.
It takes work, but it pays off.
Key Lesson: Does your website have highly specific content for people making highly specific searches? Does it answer the questions people are searching and focus enough on localities and services?
The Key Takeaways for 2022
There are two big lessons that stand out from this data from my perspective:
Mobile data is going to continue to grow in 2022 – you need to ensure your website is not just mobile friendly but also optimized for mobile. This means that it should represent itself in a different way solely for mobile visitors. It should be simpler, more direct, and have actions to make it easier for people to call you/engage.
More younger people will be researching you in 2022 – with OTC coming our way in a very loud and public way, the younger people in families will be doing all they can to ensure their parents/grandparents are not overspending or making the wrong decision – expect more young eyeballs on your website that need convincing!
I hope this article is helpful.
If so, then be sure to subscribe to the proven high-performing marketing templates (on the right-hand side of this article) – it will ensure that you get cutting-edge strategies and information in your inbox to stay ahead of the curve.
All the best for a wonderful 2022.
NOTE: The data used in this article is a combination of all the analytical website data of our Inner Circle members – 50+ of the best performing private practices in the US – it consists of over 700,000 website visitors throughout 2021.