Diversity and race is a topic that is often much easier to shy away from.
However, there's a BIG problem and it needs highlighting, even if it's uncomfortable.
That's because this article is going to share (and prove) that many people are not being represented correctly and the statistics are so heavily in one favor that it's actually rather disturbing.
What I'm talking about is the race/ethnicity of the people that make up the imagery in the marketing, websites, and advertising.
To conduct this experiment, we collected statistics from three major cities: Los Angeles, Houston, and Chicago.
In each city, research was conducted to go through the top 20 private practice websites on Google and count how many different races were represented in the images on these websites, then compare that number to the actual demographics of each city.
But before we look at the findings, let's ask ourselves another question … why is diversity so important for the hearing care industry?
The obvious answer is that we have a valuable service to help people in need, the ability to change the quality of life for someone with impaired hearing, and we want that service to be available to anyone and everyone.
What may not be obvious, however, is that marketing tends to be directed toward a particularly narrow demographic, and as a result, the hearing care industry may be losing a large amount of business due to biased advertising.
Of course, any successful advertising campaign is going to be aimed toward the most common consumers for that product or service, so it is important to tailor your advertising appropriately … but in a time when the US is richly diverse in ethnicity and culture, shouldn't our advertising target a much wider audience?
Advertising needs to reflect our culture to get our attention and engage our interest. It needs to feel familiar in a way that initially establishes a degree of trust.
Have you ever examined what aspects of advertising grabbed your attention and pulled you in? More than likely, the images that engage you the most will be the ones with a similarity to your age bracket, race, family status, etc., so it is important to engage as many as possible if we are looking for a broad outreach.
Imagery is going to be our initial opportunity to make this connection and with an ever-growing diverse culture, shouldn't our use of imagery reflect our diversity?
Let's look at the statistics.
Los Angeles

Statistics published by StatisticalAtlas.com categorized the race and ethnicity of Los Angeles into the following:
That is:
Hispanic 48.2%
White 28.5%
Asian 11.6%
Black 9.0%
Mixed Race 2.2%
Other 0.5%
After looking at the population statistics, we searched Google for "Hearing Care in Los Angeles" to check the top 20 private practice websites and count the number of people from these ethnicity categories on the homepage of each website.
The totals from these 20 websites were surprising when compared with the population statistics above.
The total numbers found for each group were:
White 125
Black 30
Hispanic 19
Asian 10
As you can see, the images used on the leading hearing care website results do not reflect the actual population of Los Angeles.
The city's highest portion of the population is the Hispanic community, at nearly 50%, but in pulling up the top 20 search results for private practices, we counted only 19 Hispanic people used in the imagery.
On the flipside, "White" make up for only 28.5% of Los Angeles, yet throughout hearing care websites, they dominated 67.9% of all the pictures.
Statistics would show that if you are in the category with the highest numbers, you may not likely notice that lack of diversity. If you are in a category with lower numbers, you are not as likely to have a sense of familiarity and comfort established when viewing the websites, because most of the imagery used does not reflect your personal life experience.
This results in less engagement from a large percentage of the city's demographic!
To continue this study, we looked at two more major cities.
Houston
Using StatisticalAtlas.com once again, the numbers for Houston looked like the following: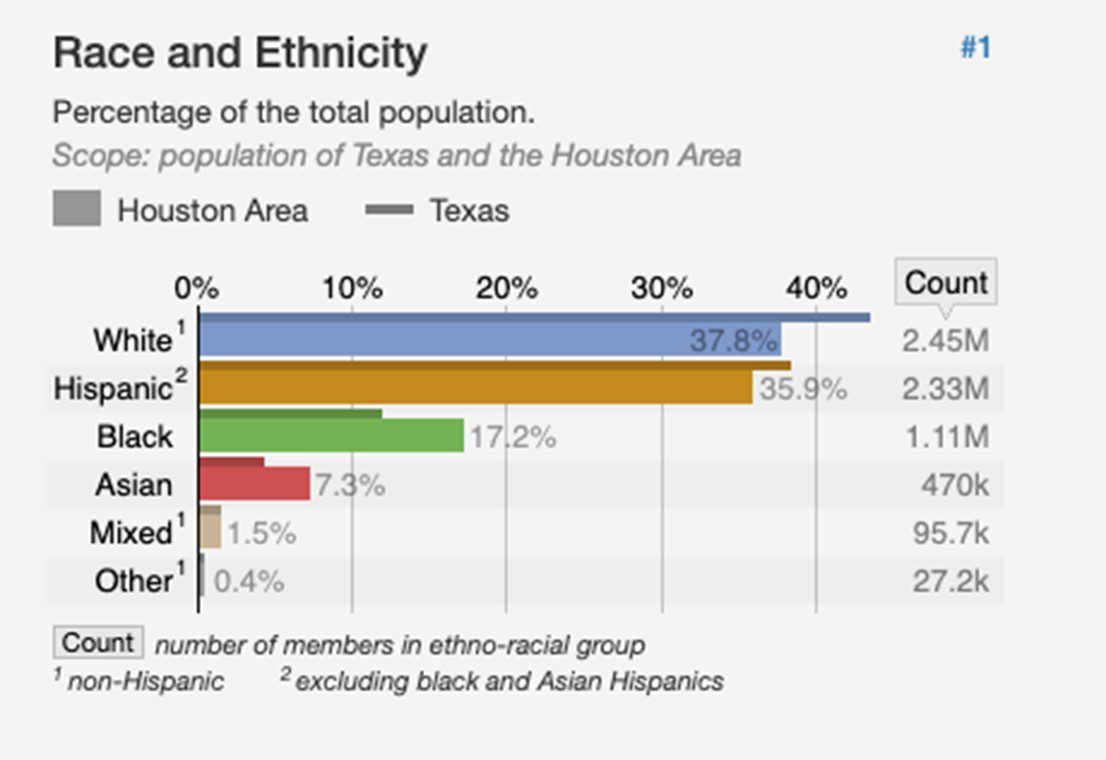 White 37.8%
Hispanic 35.9%
Black 17.2%
Asian 7.3%
Mixed 1.5%
Other 0.3%
Once again, the top 20 private practice websites were reviewed and the different ethnicities in the pictures were calculated.
The outcome:
Whites 193
Blacks 22
Hispanics 11
Asians 11
Again, we see a drastic imbalance in the use of imagery on our top 20 search results.
For a city that is 35.9% Hispanic, only 4.6% of the images within websites is representative.
Pictures of the white population make up for 81% of all pictures, yet only 37.8% of the population are white.
Chicago
Once again, the race and ethnicity split for Chicago looks like this:
White 43.8%
Black 25%
Hispanic 24.8%
Asian 6%
Other 0.4%
When reviewing the top 20 private practice websites, here's what was found:
Whites 98
Blacks 11
Asians 4
Hispanics 2
Again, we can see some drastic differences in population percentage and the number of times each race appears in our website search results.
The amount of white people used on the top websites is more than eight times the amount of black people used.
As you can see, this doesn't represent the population percentages at all.
Out of 116 pictures across the top 20 private practices in Chicago, only 18 of the pictures were non-white.
Less than 16%.
This may have been a basic experiment, and the data may shift and change, but it highlights a serious imbalance to suggest that most websites do not represent their communities.
So, what can we draw from this research?
At the very least, it shows us how efforts can be made to diversify the image of hearing care.
As it stands, it's very ugly.
We can all point blame in different directions, but one of the main culprits to this data was STOCK IMAGERY.
The same repetitive pictures of elderly white people holding hands at the beach or laughing with their grandchildren were the images that made some of the biggest differences to the data.
The advice that I would give to you is simply to use real-life imagery of your patients. It will tell the truth and accurately represent the people that you work with.
Rather than allowing a web design company to hand pick stock images — which are clearly prominently white — you can achieve so much more by documenting the truth.